Upcoming Events in Oregon
Including: Car Shows, Swap Meets, Motorcycle Events & Races
March
March 10: The Second Saturday Event is Saturday, March 10th from 10am to 2pm at the Western Antique Aeroplane & Automobile Museum, 1600 Air Museum Rd in Hood River.
March 10-11: The 41st Annual Roseburg Benefit Car Show is Saturday, March 10th and Sunday, March 11th from 10am to 7pm at the Douglas County Fairgrounds in Roseburg.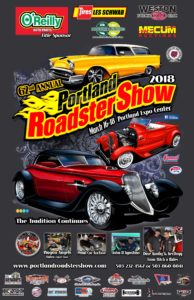 March 16-18: The 62nd Annual Portland Roadster Show is Friday, March 16th to Sunday, March 18th at the Portland Expo Center, 2060 North Marine Dr in Portland.
If would like to add a show or an event to our calendar please email the information to: tnewey@oregoncarculture.com