Upcoming Events in Oregon
Including: Car Shows, Swap Meets, Motorcycle Events & Races
September 12 – Redmond:  The 37th Annual High Desert Swap Meet and Car Show is Saturday, September 12th at 7am at Deschutes County Fairgrounds and Expo Center, 3800 SW Airport Way.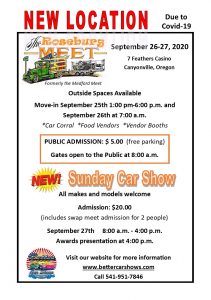 September 26-27 – Canyonville: The Roseburg Swap Meet & Car Show is Saturday, September 26th and Sunday, September 27th at the Seven Feathers Casino, 146 Chief Miwaleta Lane.
September 27 – Eagle Point: The Eagle Point Cars & Coffee is Sunday, September 27th from 9am to 11am at 1350 S. Shasta Avenue.
If you would like to add a show or an event to our calendar please email the information to: tim@oregoncarculture.com